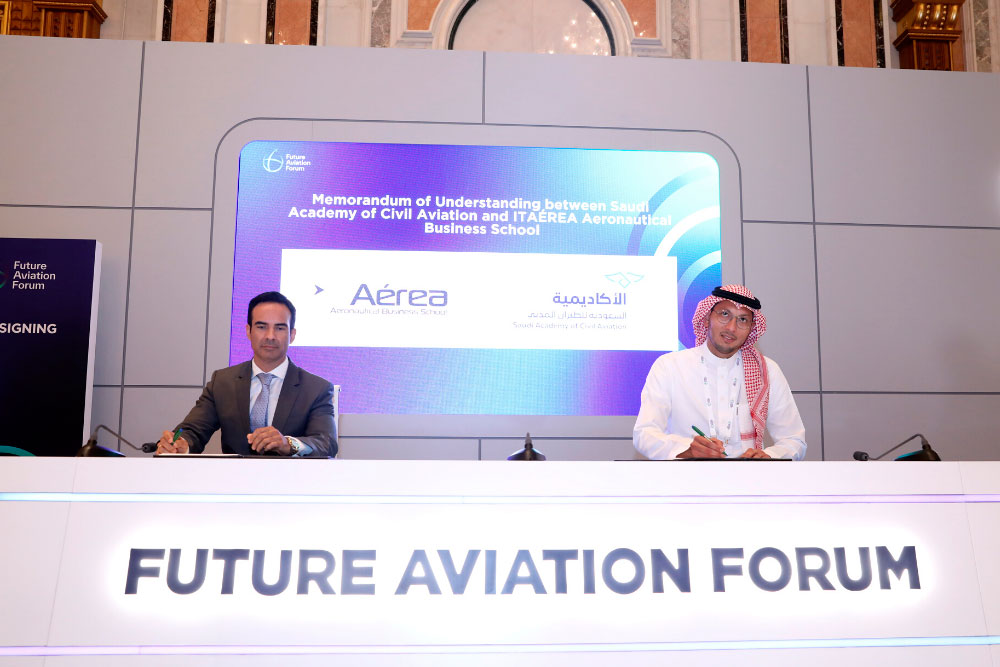 ITAerea have signed a MOU with Saudi Academic of Civil Aviation
News
What an extraordinary event the Future Aviation Forum was! Last week José Ignacio Escudeo (CEO of ITAérea Aeronautical Business School) travelled to Riyadh and Aryad with Estrella Valera (Deputy Manager) and Jaime Brea (International Development Manager) to sign a MOU collaboration agreement with SACA-Saudi Civil Aviation Academy for the provision of training in various fields of civil aviation and sustainability for the development of KSA to achieve the goals of Saudi Vision 2030. Our entire team is very proud to be able to take another step in the expansion of aeronautical training around the world.
We spent 2 days of incredible networking, presentations and interviews on the future of the aviation industry. In an event that had 3000 guests and high level speakers from all over the world, we had the pleasure to participate with GACA – General Authority of Civil Aviation – Saudi Arabia, whom we thank for their invitation and for organising such a successful event.
We would like to thank Abdulmohsen Gushgari and Eng. Bandar Al-Qizayz for their warm hospitality. Dr. Bader Alsagri thank you very much for giving us the initial support to start this new chapter.
See you in future editions!
CONTACT info@itaerea.com +34 902 505 501 TEACHERS TRAINING
Related Posts