Air Transport Management Master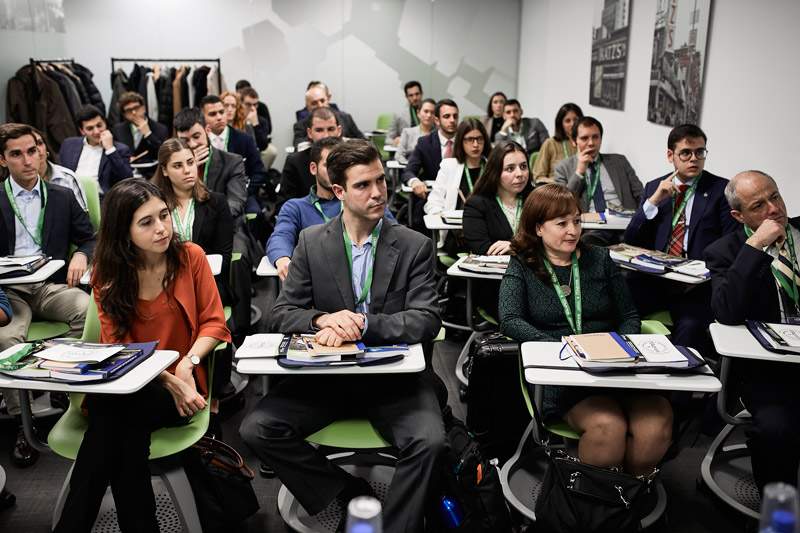 In this article we are going to give a global vision of our air transport management master. But first of all we will show the development of air transport to understand the importance of air transport management.
History of air transport (brief introductory approach)
The first demonstrated flight to take place was on June 4, 1783, when the Mongolfier brothers took off in a hot air balloon in Annonay France. In the 1800's, Sir George Cayley became the first person to successfully create a human carrying glider. He was also responsible and credited with being the first person to explain the aerodynamic forces of flight weight, lift, drag and thrust and their relationship.
Fast forward to the 1900's. On December 17, 1903 the first sustained and controlled "heavier then air" powered flight took place with the Wright brothers. In 1907 development work began on the Gnome rotary aero engine and in 1908 the first Gnome rotary aero engine is produced. August 1909, the United States government bought its first airplane (Wright Model A) for $30,000. In 1912 the first all metal aeroplane was flown by a French man and in 1913 the first flight to reach an altitude of 20,000 feet was flown.
In July of 1940 the first airliner with a pressurized cabin, the Boeing 307 Stratoliner, entered service with Transcontinental Airways on the New York to Burbank in California route.
After World War II (around 1947) jet propulsion, aerodynamics, radar technology catapulted the aviation industry, which made aircraft larger, faster and featured pressurized cabins.
Growth of the aeronautical industry
Aviation provides the only rapid worldwide transportation network, generating economic growth, creating jobs, and facilitating international trade and tourism. Aviation has become the enabler of global business and is now also being recognized by the international community as an essential enabler to achieving the UN Sustainable Development Goals.
The aviation sector is growing fast and will continue to grow. The most recent estimates suggest that demand for air transport will increase by an average of 4.3% per annum over the next 20 years. If this growth path is achieved by 2036 the air transport industry will then contribute 15.5 million in direct jobs and $1.5 trillion of GDP to the world economy. Once the impacts of global tourism are taken into account, these numbers could rise to 97.8 million jobs and $5.7 trillion in GDP.
By mid-2030s no fewer than 200,000 flights per day are expected to take off and land all over the world. Imagine the first video again – but with twice as much traffic! These figures are dazzling and reflect a dynamic sector - which is great. And this growth is not limited to passenger traffic. We anticipate that cargo traffic in terms of tonnage – to continue to grow along a similar curve.
As the industry plans to support a near doubling of passenger and cargo numbers by 2036, demand for pilots, engineers, air traffic controllers and other aviation-related jobs is expected to rise dramatically. What is also certain is that innovations in technology and approaches will be needed to sustain this growth.
What is an air transport management master?
Masters in management, organization or direction of the air transport are an excellent complement to basic technical training, as they allow the postgraduate to acquire a series of transversal skills that are highly demanded in the sector.
Who is it for?
Aeronautical engineers, aerospace engineers, civil engineers, industrial engineers, graduates in Aeronautical Management, air traffic controllers, Law School graduates, business studies, economics, Marketing, Tourism, or those with demonstrable experience in the air transport industry and a long etcetera.
Why this master?
Master's degrees in aeronautical management enjoy very low attendance rates due to their high level of academic demand and the fact that there are not many institutions that offer specialized training, so the offer is limited, and the demand is increasing. This fact is confirmed in articles such as El País on business schools such as ITAérea Aeronautical Business School: "Business schools specialize" or by the newspaper El Mundo, where ITAérea ranked first in specialized masters in airport and aeronautical management.
What's the air transport management?
The Air Transport Management is the activity that comprises the business administration of various sectors of the air transport industry, including airlines, airport companies and authorities, civil aviation departments, air transport consultancies, air navigation services providers, and aerospace companies such as manufacturing companies, etcetera.
Why is so important for the industry?
In today's rapidly changing air transport environment the industry requires access to advanced and comprehensive knowledge, coupled with an in-depth understanding of its needs.
Air transport management is an important enabler to achieving economic growth and development. Air transport facilitates integration into the global economy and provides vital connectivity on a national, regional, and international scale. It helps generate trade, promote tourism, and create employment opportunities.
Benefits of a good air transport management
The growing availability of affordable air travel has considerably widened aviation's role in our sustainable society. Air travel is no longer a luxury commodity. The air transport industry has not only underpinned wealth creation in the developed world but has also brought enormous benefits to developing economies by unlocking their potential for trade and tourism.
Aviation provides the only worldwide transportation network, which makes it essential for global business and tourism. It plays a vital role in facilitating economic growth, particularly in developing countries.
Air transport provides vital economic benefits:
Aviation provides the only worldwide transportation network, which makes it essential for global business and tourism. It plays a vital role in facilitating economic growth, particularly in developing countries.
Aviation transports close to 2 billion passengers annually and 40% of interregional exports of goods (by value).
40% of international tourists now travel by air.
The air transport industry generates a total of 29 million jobs globally (through direct, indirect, induced and catalytic impacts).
Aviation's global economic impact (direct, indirect, induced and catalytic) is estimated at US$ 2,960 billion, equivalent to 8% of world Gross Domestic Product (GDP).
The world's 900 airlines have a total fleet of nearly 22,000 aircraft. They serve some 1,670 airports through a route network of several million kilometers managed by around 160 air navigation service providers.
25% of all companies' sales are dependent on air transport. 70% of businesses report that serving a bigger market is a key benefit of using air services.
Information about ITérea's Air transport management master:
General information about ITAérea's air transport management master
Duration and start date of our Masters in Aeronautics
600 hours
Timetable and modality
e-learning (24/7)
Fees and scholarships
To know the price and the scholarships offered, please contact us through the contact form on our website or by email at info@itaerea.es
More information on prices and tuition fees
To know the price and payment conditions, please contact us through the contact form on our website or by email info@itaerea.es
Payments can be made by:
Credit or debit card through our website
Wire transfer
More information on scholarships and grants to study an air transport management master
To know the scholarships offered, please contact us through the contact form on our website or by email at info@itaerea.es
Languages in which our Master's in Aeronautics is taught
Our Master's in Aeronautics is taught in English.
Place of delivery
At ITAérea, any of our Masters in Aeronautics can be studied in e-learning modality.
What are the entry requirements for the ITAérea air transport management master?
General entry requirements
The air transport management master is freely accessible.
New student profile
Applicants must fulfill the following requirements:
University graduates or non-graduates professionals of the aeronautical and airport sector.
Required English level: at least B2.
This program is ideal for those wishing to acquire the most relevant knowledge in the sector, thus giving a boost to their professional profiles.
Places for our master's degree in aeronautics
50 places
Pre-registration
There is a prior admission process to evaluate the suitability of the student's profile.
Enrolment
After one day of evaluation of the applicant's suitability for the master, he or she will receive confirmation of admission and enrollment will proceed.
Legalization of documents
Documents issued by states that are not members of the European Union or signatories of the Agreement on the European Economic Area must be legalized through diplomatic channels or with the corresponding apostille.
What is the syllabus for the Master's in Aeronautics?
Unit 0: Introduction to Sustainable Aviation
Unit I: Sustainable Management of the Airports
Unit II: Sustainable Management of the Airlines
Unit III: International Air Law
Unit IV: Sustainable Management of the Air Navigation
Unit V: Sustainable Management of the Aeronautical Industry
Unit VI: Master Thesis
What are the career opportunities for ITAérea's Master's in Aeronautics?
Regulated profession
Aeronautical firefighter CREI commander, SAR Search and Rescue Operations management technician, aviation incident and accident investigator, aerodrome certification expert, ATC Air Traffic Controller, aeronautical law specialist lawyer, etc.
Professional opportunities
Operational Safety Manager, Airport Operations Manager, Human Factors and CRM Expert in Aviation, Airport Environmental Manager, Air Navigation Services Maintenance Manager, Air Navigation Visual Aids Maintenance Manager, Air Navigation Services Manager, Airport Maintenance Manager, Passenger Service and Quality Control Manager, Airport Planning Manager, Handling Supervisor, aeronautical structure repair manager, etcetera.
Why study a Master's Degree in Aeronautics?
The presence of well-trained professionals specialized in management is a rising value in today's times.
Only through top-level professionals with extensive experience in the management of air transport companies is it possible to transmit the knowledge and experiences necessary to train future managers and directors of the sector.
The knowledge acquired thanks to the aeronautics courses will be, without a doubt, of great value for the professional development of the student.
Let us give some examples about the approach that should prevail in training in airport and aeronautical management:
It is not about explaining how an airport operates, but how the operations department of an airport or airport manager is directed or managed.
It is not a question of explaining how the airport infrastructure is maintained (that would be a technical question) but rather how the maintenance has to be organized: the budget, human resources, times, etc.
It is not about explaining what an airline's income is, but how an airline achieves its profitability and how the finance department does it.
And so also in the rest of the air transport companies.
Therefore, the teacher must be a general director or manager. He is the only one with sufficient knowledge. That will be the starting requirement since logically the academic department will have to audit your skills as a teacher. But only and exclusively if the first of the requirements is met.
Quality seals of the Master's in Aeronautics (if any)
The ITAérea's Master's in Aeronautics is recognized by the entire air transport business sector at an international level.
Why choose ITAérea to study a master's degree in aeronautics?
Main advantages
Due to the high level of its teaching staff, all of them senior executives in the sector.
Due to its innovative methodology, making use of interactive presentations, face-to-face classes and live conferences with teachers.
For the recognition of ITAérea throughout the international air transport sector.
ITAérea is the first Business School specialized in airport and aeronautical management in the world by volume of students, headquarters and teachers.
ITAérea is a strategic partner of UNITAR (UN) and CIFAL Mérida (Mexico) to promote the development of training for air transport managers worldwide.
It is the first provider of managerial training for the Latin American region of the Airports Council International (ACI-LAC).
Teachers involved in our aeronautics master's degree courses.
Carlos Medrano, AENA's former General Director.
Ignacio Monasterio, AECFA's Coordination Director
Carlos Berenguer, Aviation General Director at AERTEC Solutions.
Adriá Canals, Head of Transportation Advisory at ARUP.
Rodrigo Tavares, Waste and Resources Manager at Neom.
Armando Rodríguez, Spain & Portugal Handling Services Manager at Iberia Airlines.
Javier Sanz, Former Flight Operations Director at Iberia Airlines.
Víctor del Castillo, SMS and Human Factors expert.
César Ovelar, CFO Group Gestair.
Daniel Cruz, ANS Dept. at the Civil Aviation Authority of Thailand on behalf of EASA.
Rafael Márquez, Aerospace & Defence Systems Director at AERTEC.
David Doral, Founder and Director of DANTE AeroNautical.
Lourdes Montás. Corporate Controller at Grupo Puntacana. Rep. Dominicana.Liability in Air Transport.
Eduardo Coll. Managing Director at Leadin Aviation Consulting.
Enric Cuadras. Principal Airport Planner. Mott MacDonald.
Miguel Palomares. General Manager of Albacete Airport.
Jesús Viciana. IT Systems Manager at AERTEC Solutions.
Juan Manuel Ortega. Head of Airport Engineering & Asset Management Aviation at Mott MacDonald.
Adriana Bejarano. Head of Assurance (EHS, SMS, CSR) at Aeris Holding Costa Rica.
Daniel Pagán. SVQ Hangar Quality Manager at Ryanair.
Saúl Nieto. Captain Hong Kong Express Airways.
Eliseo Llamazares. KPMG Partner. Chile.
Óscar Castro, Aeroelastics and Sustainability Consultant.
Encarna Martín, Business Development Consultant.
Jordi Pla Pintre. Network Development Manager at easyJet.
Andrea Vassallo. Senior Manager of Supply Chain & Materials at Volotea.
Alfredo Arranz. Hangar Director at Ryanair.
Lucía Martínez. Environmental Manager in Air Europa.
Diego Olmedo. Partner at Clyde & Co.
Manuel Gallego. Lawyer at Augusta Abogados.
Hernán Gómez. Consultant. Advisor ICAO and CLAC.
Felipe Pineda. Lawyer at Augusta Abogados.
Mattia Cardinali. Lawyer at Augusta Abogados.
Diego González. Legal Affairs Manager at Aeropuertos Argentina 2000. President of WALA.
Ramón Amieva. Apron Supervisor West & South Tower (Madrid-Barajas Airport).
Regina Alvarado. ATCO at Palma ACC. ENAIRE.
Matthew Riley. Head of Operations at ATM Transformation Ltd.
Luis Barbero. ATCO at London Heathrow. President and CEO of GATCO.
Alberto García. Simulation Engineer at ITP Aero.
Jorge Moñino. Aerospace Industry Director at AERTEC.
What positions do our teachers occupy?
All the teachers assigned to this postgraduate program are high-level professionals with vast experience in the air transport industry. They originate from more than 10 different nationalities (Europe, USA, Latin America, the Middle East, etc.). These professionals hold senior management positions in companies and institutions such as:
Arup • Mott MacDonald • SAS Ireland • Leadin Aviation Consulting • AENA • Vinci Airports • AERTEC Solutions • AIRBUS • Augusta Abogados • IAG Cargo • SAERCO • ENAIRE • GATCO • ITP Aero • Aeropuerto de Albacete • Hong Kong Express Airways • easyJet • KPMG • AERIS Costa Rica • Grupo Puntacana • Ryanair • Gestair • IBERIA Airlines • Clyde & Co. • AA2000 • WALA • DANTE Aeronautical
If you wish to receive more information about the Master in Sustainable Air Transport Management you may contact ITAérea through info@itaerea.es or through our contact form.
Skills acquired in the Master's Degree in Aeronautics
Basic
Comprehensive knowledge of the different companies and actors that make up the air transport sector.
The Master's Degree in Aeronautics allows the student to know how the management of air transport companies is articulated: airport managers, airlines, auxiliary companies, air navigation business managers and the aeronautical industry.
Throughout all its subjects, the student will understand the specialties of the Human Resources, operations, marketing, finance, economic, legal, environmental, maintenance, security, etc. departments. In short, all the departments of these companies.
Transversal
Organize, plan and manage projects.
Recognize the human, economic, legal and ethical dimension in professional practice.
Apply a rigorous and efficient approach to solving complex problems.
Work collaboratively in multidisciplinary teams.
Innovate in the search for new spaces / areas in your field of work.
Specific
Complete an original and innovative work on a problem related to the aeronautical sector.
Adapt the management to the legal regulations applicable to the aeronautical sector, based on the understanding of the specific concepts of aeronautical law.
Identify and understand the different systems that make up the national and international air transport industry, their key factors and their influence to achieve an efficient and safe air transport system.
Effectively apply quantitative optimization methods and techniques for a logistics system.
Apply to airport management the fundamental elements and factors that determine the operation of an airport.
Understand the fundamental elements and factors that determine the operation of a commercial airline, in order to apply them properly in its management.
Execute a simulation project to improve airport process performance indicators.
Apply the principles and techniques of lean management in the innovation and improvement of performance of the processes of the aeronautical industry.
Analyze the influence of the main aeronautical maintenance management procedures and techniques in the management of an airline.
Main master's degrees and courses of ITAérea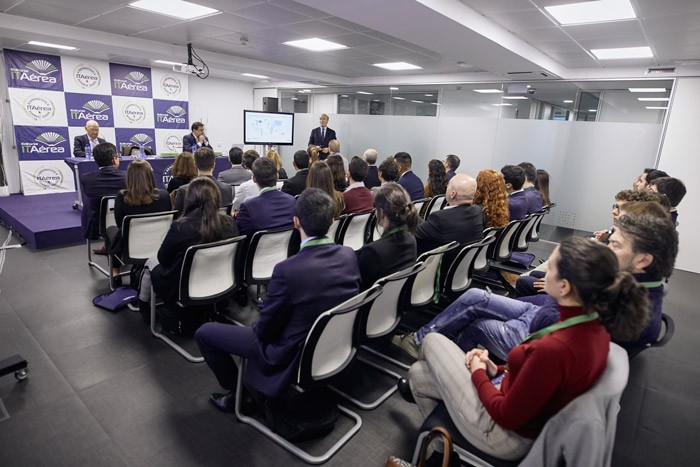 In 2010, ITAérea Aeronautical Business School started a process to implement e-learning training in parallel to the development of on-site training that it had been teaching since 2008.
This process responded to a clear objective of the School that aimed at offering all our students globally quality training, taught by high-level professionals, available 24 hours a day, etc.
Over the years, different phases associated with this process have been planned and executed, in which the simplicity of management and the interactivity of the virtual campus and of the academic materials by our students have always been sought. It should be noted that e-learning training is very useful for the student for the following reasons:
It allows the students to access the virtual campus in a comfortable way, from anywhere and at the time that best suits their needs.
The students are free to take the exams when they deem it appropriate (always within the period established by the academic calendar).
It provides the School and its teachers with the possibility of making use of the latest technologies to transmit to the students the concepts defined in the academic program.
It allows the students to interrelate and establish synergies with peers from anywhere in the world.
The tutoring and monitoring of the students by the School is carried out virtually and constantly. The academic department, made up of 40 tutors, monitors the student's periodic control and draws up situation reports.
It is very useful in the circumstances in which we currently find ourselves, going through a period of confinement for health reasons.
What does e-learning training consist in?
ITAérea attaches great importance to the direct and reciprocal contact of the student with the teacher, since there is no better way to transmit the knowledge and vast experience of our teachers.
Thus, e-learning training in ITAérea is articulated following our own methodology called "e5", which is based on the 5 basic pillars of online training: e-learning, expertise, efficiency, employability and enhancement and that ITAérea has been implementing it for many years.
The e-learning training takes place at the ITAérea Virtual Campus, where the students can access all the content of the training program:
Short and easy-to-view interactive presentations in which the contents are exposed in a clear and intuitive way. This guarantees a better understanding and dynamism for the student.
Updated and adapted international content.
Interactive review exercises, with which the student can reinforce the main concepts of each topic.
Complementary materials.
Online tutoring.
Chats and discussion forums.
Next, we would like to highlight some of the training programs that ITAérea offers in e-learning mode in English:
Postgraduates:
Courses:
Undoubtedly, the exceptional circumstances in which we find ourselves are incompatible with on-site training, the School's greatest asset, which will be taken up by the School at all of our international offices as soon as the authorities allow it.
We want to take this opportunity to report that all of our enrollment processes continue open at all of our international offices. You can send us a request for information about any of our programs through the email info@itaerea.es or through our contact form.
Career prospects
Industry 4.0 is giving rise to a growing demand for qualified professionals trained in efficient and environmentally friendly technologies and processes. Workers who want to be part of the next industrial revolution in the field of aeronautics must be endowed with a global knowledge of air transport.
The aeronautical industry is striving to mitigate its environmental impact, more pronounced because it directly affects the atmosphere. The European Commission has marked for this sector that in 2050 it must reduce its CO2 and NO2 emissions by 75% and 90%, respectively. Noise pollution should also get another drastic cut, in this case 65%. The industry works to achieve those goals and, in passing, also lighten its production costs.
Some analysts have compared the new generation of aircraft with the transformation that the trains underwent. Initially, as large consumers of coal, to give way to diesel-driven locomotives, to the current units, faster and quieter thanks to electricity.
It is very difficult to accurately describe the profile of the future professional in air transport, but what is clear is that we can intuit that the following will converge on that professional:
First, that professional must be disruptive. It must break with the established to be able to innovate or improve the existing. It is not just a matter of age, but a matter of mentality and determination towards an objective.
You must have technical knowledge that allows the development of processes in a more efficient and sustainable way.
You must know the negative effects that your work implies in your social, environmental, economic environment, etc.
Environmental awareness must be one of their priorities.
You must acquire specific tools for sustainable management of human, economic, social and environmental resources.
You should know that you occupy a place in the world and that the world institutions have created future goals that force you to adopt a certain behavior.
It is very frequent to read about the Sustainable Development Goals, the 2030 Agenda, sustainability, etc. We believe that those professionals who understand well and get ahead of the knowledge of all this culture that permeates today's society will have a guaranteed professional future.
Best aerospace engineering masters
As we already told, there are plenty of options if you want to study aerospace masters or msc in aerospace. Online aerospace engineering masters are now stablished as good options to check. One of the best aerospace masters programs present e-learning versions. However, if you are trying to develop your career, instead of looking for a ms in aerospace engineering or a master of science in aerospace engineering, you should consider to assist to the training programs ITAérea offers and we have previously mentioned.
CONTACT info@itaerea.com +34 902 505 501 TEACHERS MASTERS AND COURSES