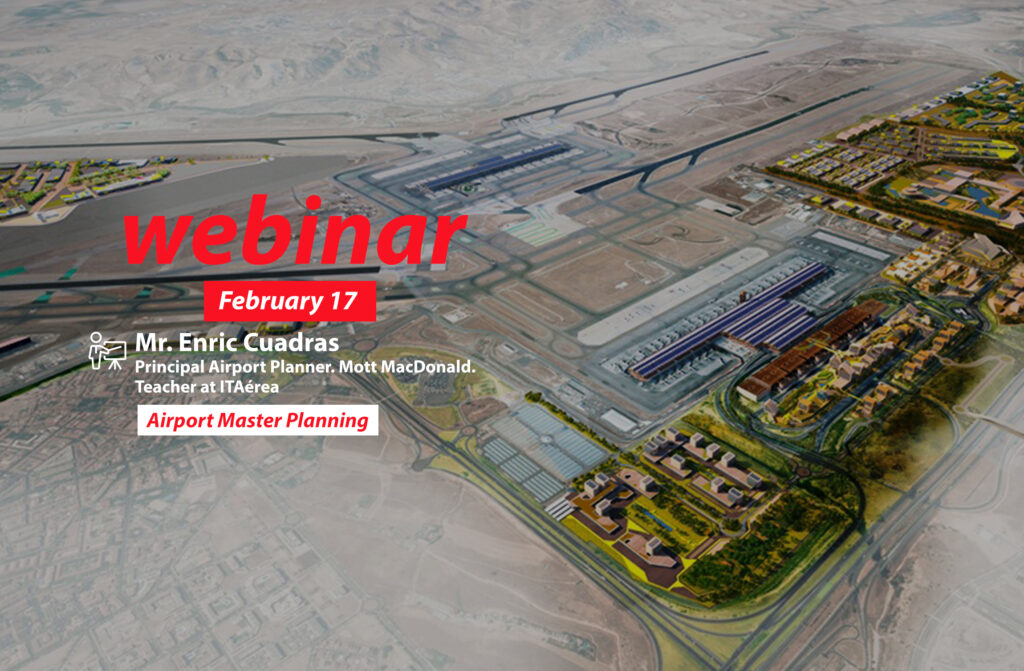 Webinar: Airport Master Planning
News
Tomorrow, February 17, a virtual conference will be hosted by Mr. Enric Cuadras Oliva, Principal Airport Planner at Mott MacDonald and teacher at ITAérea in the Master in Sustainable Air Transport Management taught jointly with the United Nations.
In this virtual conference, Mr. Enric will explain to our students how airport planning is developed to face traffic demand, the capacity of the platform, etc. To do this, he will analyze concepts such as Traffic Forecasts, Capacity-Demand Analysis, Optioneering, Development Plan, obstacle limitation surfaces and how they should be modified depending on traffic, etc.
The Master Plan of an airport is key to avoid the development of unnecessary infrastructures. It is a document consisting of the general planning study of the airport and its development.
Over the next few weeks, a series of virtual conferences have been planned that cover all the areas included in air transport management: airports, airlines and auxiliary companies, air law, air navigation, aeronautical industry, aeronautical safety, etc.
These sessions, taught equally in both Spanish and English, are aimed at establishing direct contact and interaction of students with the main actors in the sector, the teachers of ITAérea.
In the coming weeks we will be informing about all the virtual conferences that will be held on the ITAérea virtual platform.
CONTACT info@itaerea.com +34 902 505 501 TEACHERS TRAINING
Related Posts