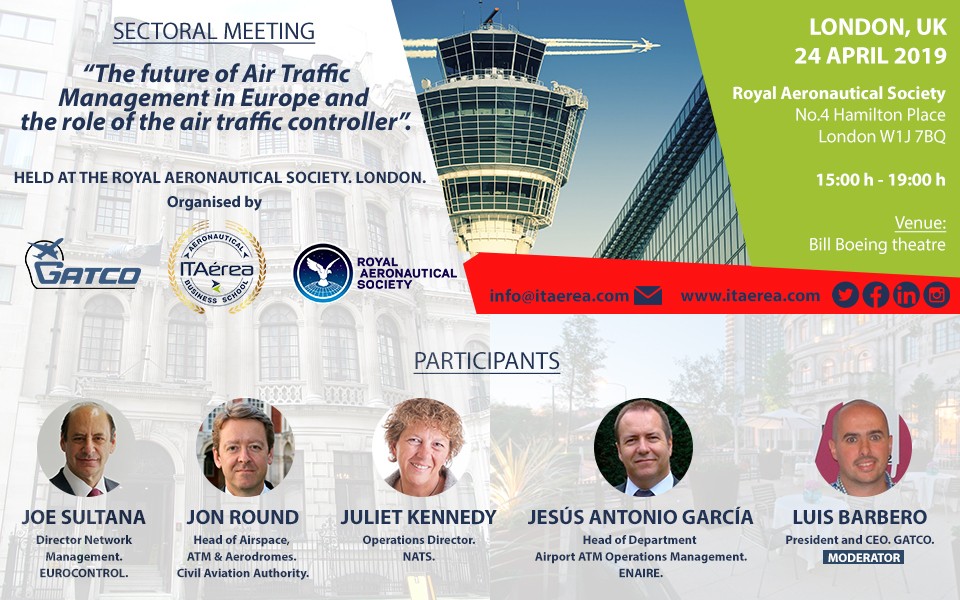 III Sectoral Meeting: Air Navigation Hosted by ITAérea and GATCO in the Royal Aeronautical Society HQ In London
News
"The future of ATM in Europe and the role of the air traffic controller"
GATCO, ITAérea and the Royal Aeronautical Society (RAeS) are hosting a half-day event on "The future of Air Traffic Management in Europe and the role of the air traffic controller" on Wednesday 24th of April 2019 at the Royal Aeronautical Society headquarters in London:
Royal Aeronautical Society
No.4 Hamilton Place
London
W1J 7BQ
+44 (0)20 7670 4345
The event will bring together key senior managers from the ATM industry in Europe to discuss the challenges our industry is facing going forward and the role of the air traffic controller. The European ATM industry has had a difficult 2018 with staff and capacity shortages and increasing delays, at a time of record-breaking traffic levels. How can we, as an industry, react in the most flexible and resilient way to ensure this situation is as short-lived as possible? This and other topics will be discussed by our panel to try and identify how the ATM industry can cope with present and future demand in a sustainable and resilient way. Attendees will also have the opportunity to have their voices heard and ask our experts their views on ATM and ATC matters.
The panellists for the event are:
Joe Sultana, Director Network Management, EUROCONTROL.
Jon Round, Head of Airspace, ATM and Aerodromes, UK CAA.
Juliet Kennedy, Operations Director, NATS.
Jesús Antonio García, Head of Department – Airport ATM Operations, ENAIRE.
Moderator: Luis Barbero, President and CEO, GATCO.
The half-day event is free to attend and will start at 15:00h on the 24 April 2019 and end at 19:00h, with check-in opening at 14:30h.
Registration for the event is now open through the link below. Should you have any questions about the event, please e-mail us at info@itaerea.com
III Sector Meeting: Air Navigation
CONTACT info@itaerea.com +34 902 505 501 TEACHERS TRAINING
Related Posts