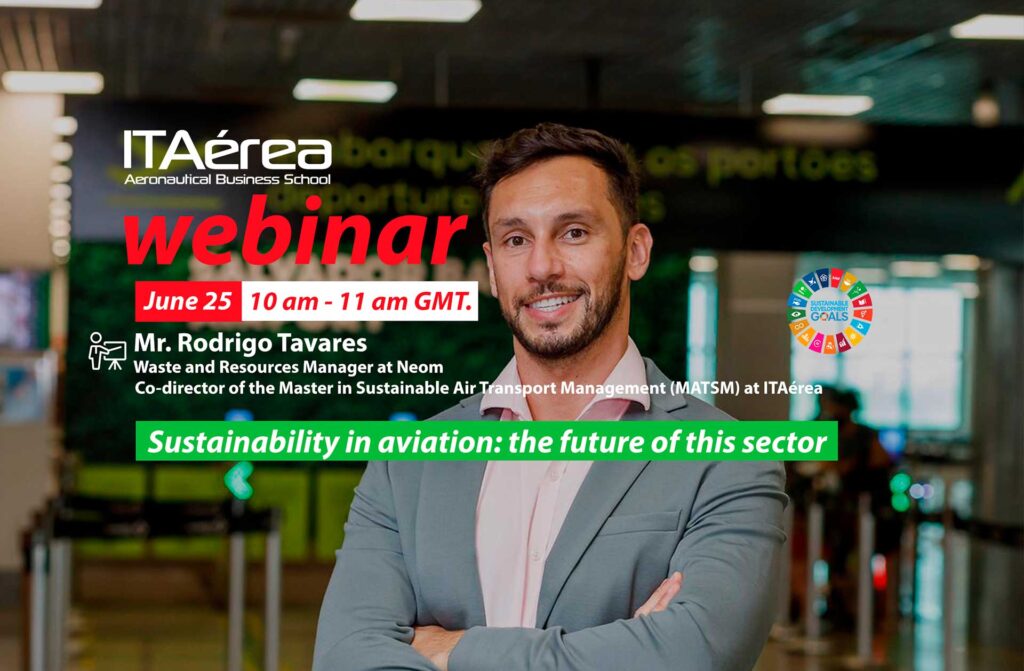 Webinar. Sustainability in aviation: the future of this sector
News
Next June 25, a virtual conference will be hosted by Mr. Rodrigo Tavares, former Environmental Manager at Salvador Bahia Airport; currently performing as Waste and Resources Manager at Neom; teacher at ITAérea and co-director of the Master in Sustainable Air Transport Management taught jointly with the United Nations.
It is not acceptable anymore to conduce the world without thinking in the sustainability. A company that incorporates sustainable concepts in its culture and policies will be more competitive and more prepared for the market challenges, in addition to being less pollutant, more efficient, to have a better image and reputation and to prepare a better world for the actual and future generations.
Also, environmental commitment is a key to businesses sustainability and it is part of our business strategy. The future goes towards a green economy, not only because the planet shows us that can't stand the current level of environment impact but also because people are more aware of the importance of preserving natural resources.
In case you want to participate in this webinar, please fill in the next form: https://forms.gle/nS2tTkVVVr7sAyw98
Over the next few weeks, a series of virtual conferences have been planned that cover all the areas included in air transport management: airports, airlines and auxiliary companies, air law, air navigation, aeronautical industry, aeronautical safety, etc.
These sessions, taught equally in both Spanish and English, are aimed at establishing direct contact and interaction of students with the main actors in the sector, the teachers of ITAérea.
In the coming weeks we will be informing about all the virtual conferences that will be held on the ITAérea virtual platform.
CONTACT info@itaerea.com +34 902 505 501 TEACHERS TRAINING
Related Posts