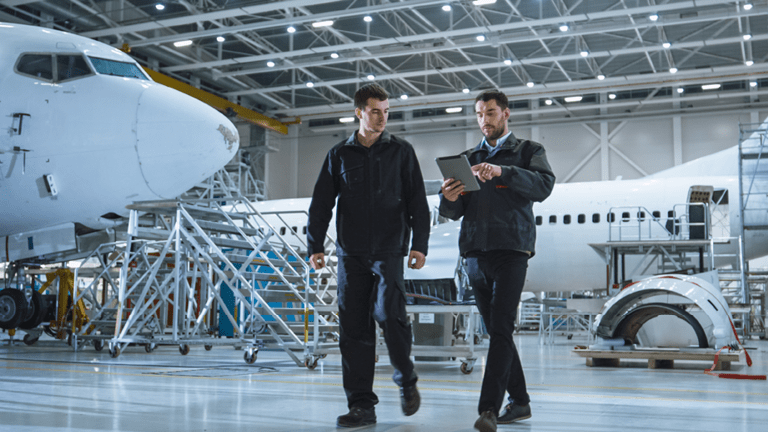 The effect of maintenance on airline safety quality
News
Aircraft Maintenance is that part of the process of aircraft technical activity which is conducted on aircraft whilst it remains in the line maintenance or base maintenance environment. Aircraft Maintenance is intended to keep the aircraft in a state which will or has enabled a certificate of release to service to be issued. A hangar environment may be available but is often not necessary. The reasons for carrying out maintenance are neatly summarised by:
Aircraft safety – airworthiness at its heart.
Keep aircraft in service – Availability, which is of key importance to an operator i.e. the aircraft can meet its schedule.
Maximise value of asset (airframe, engines and components) – of prime importance to the owner or lessor.
Maintenance will consist of a mixture of preventive and corrective work, including precautionary work to ensure that there have been no undetected chance failures. There will be inspection to monitor the progress of wear out processes, in addition to:
Scheduled or preventive work to anticipate and prevent failures.
Unscheduled work – repair maintenance and on-condition maintenance
In general terms, for preventive work to be worthwhile, two conditions should be met:
The item must be restored to its original reliability after maintenance action, and
The cost of maintenance action must be less than the failure it is intended to prevent.
Light or Line Maintenance
This would typically include pre-flight checks, daily checks (before first flight) fluids, failure rectification as well as minor, scheduled maintenance tasks as follows. According to EASA Part 145, Line Maintenance should be understood as "any maintenance that is carried out before flight to ensure that the aircraft is fit for the intended flight." This may include:
Trouble shooting.
Defect rectification.
Component replacement, up to and including engines and propellers, with use of external test equipment if required.
Scheduled maintenance and/or checks including visual inspections that will detect obvious failures but do not require extensive in depth inspection. It may also include internal structure, systems and powerplant items which are visible through quick opening access panels/doors.
Minor repairs and modifications which do not require extensive disassembly and can be accomplished by simple means.
EASA Part 145 also explains that "for temporary or occasional cases the Quality Manager may accept base maintenance tasks to be performed by a line maintenance organisation provided all requirements are fulfilled as defined by the competent authority". It is also noted that "Maintenance tasks falling outside these criteria are considered to be base maintenance".
Base or Heavy Maintenance
Base maintenance may be referred to as heavy (or depth) maintenance, and consists of tasks that are generally more in-depth and long-lasting than those above, but are performed less frequently. An MRO company will have to have large facilities and specialised equipment and staff to undertake base maintenance, and many operators contract-out this function. The different activities may include:
C and D Checks (Block checks see Maintenance Programme) which will check for deterioration of the airframe, engines and systems, e.g. corrosion, fatigue
Removal of defects – implementation of Service Bulletins (SB) and Airworthiness Directives (AD), although this can also be done during Line maintenance.
Technology upgrade – fitting of Terrain Avoidance and Warning System (TAWS), Airborne Collision Avoidance System (ACAS) etc
Cabin reconfiguration, painting etc.
Empirically, the experience reveals that there is a general lack of understanding about the basis of Aircraft Maintenance Program (AMP), specially regarding the formalism required for its development. This is due to the importance and focus given to the economical affairs in Aviation. In air transport, besides Safety, the economics of operations is the other base element for the success of the industry. In accordance with ICAO (International Civil Aviation Organization), maintenance represents an average of 11% of operational costs of air operators, up to 25%, depending on fleet size, age and level of utilization.
Quality can be described in a number of different ways depending on the perspective and the product or process involved. Quality is defined as "an inherent feature, a degree of excellence, having certain properties and grade". And how does the quality assurance process apply to aviation maintenance? This is more difficult to answer because aviation maintenance is governed by several factors: statutory requirements, original equipment maker (OEM) maintenance schedules and requirements (aircraft maintenance manual), industry standards and specifications, and general maintenance practices. When a maintenance situation is not covered by any of these documents or procedures, the Aircraft Maintenance Technician (AMT) must rely on either experience or guidance from another technician or inspector to accomplish the repair. As a general rule, aviation maintenance should be done in accordance with the applicable OEM maintenance manual and the supporting OEM processes and procedures for general repairs. Most of the time an OEM repair is available, and there is little need to find another solution. The reason an OEM solution is preferred is because an inspector/IA will use the maintenance manual set to perform an annual or sign off a major repair.
Quality and safety
Quality and safety go hand-in-hand. It is not possible to have a safe aircraft without some sort of quality assurance program. For many FBOs, that program is one or two IAs in residence, and for larger operations it's the QA department. Safety and quality are as much a state of mind as they are an office staffed with people, and all levels of management must work together to ensure both are addressed in the same process. The technician is on the front line in this process since it is they that have most of the exposure to the hardware and the maintenance functions, and it is most important that management and the technicians have the same mindset when it comes to the quality process. On the other hand, a good QA program is important to the AMT because it creates a workplace where the technicians can develop their skills and learn more about the maintenance process than just the nuts and bolts repairs. It creates mutual respect between management and the workforce, and more importantly, it creates a business with a professional attitude where customers will continue to their aircraft.
The path to quality assurance is short for some. In the past, the quality office in large operations was a dumping ground for the less talented and downright dangerous. With industry "downsizing, rightsizing, streamlining, and synergizing," large QC offices got smaller, and operations started moving toward QA type processes. This required a more educated staff, and the industry now has a much smaller but more qualified QA workforce.
ITAérea and the United Nations offer the only postgraduate degree in sustainable management of air transport in English.
ITAérea Aeronautical Business School supports and encourages policies and measures to fight climate crisis and environmental conservation. Our commitment to the cause and the first step in this direction was signed by agreement at the UN headquarters in Geneva, in 2017. At the time the first stone was laid of what today is the only master in sustainable air transport management in the world. Taught in English, the Master in Sustainable Air Transport Management MATSM offers our students the essential tools for a sustainable and efficient management of all companies covered by air transport: from airports to airlines, through auxiliary service companies, service providers of air navigation, aircraft manufacturers, etc.
CONTACT info@itaerea.com +34 902 505 501 TEACHERS TRAINING
Related Posts